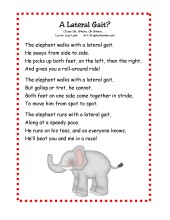 A Lateral Gait?


Lucy's note: "This song emphasizes a few facts about the way an elephant moves. Like a camel or giraffe, both feet on one side are lifted together as he walks or runs. This gives a rolling motion to the back. (Cats and dogs walk with a diagonal gait.) Elephants cannot gallop or trot or jump. However, they can run faster than a man in a short sprint. Like rhinoceroses, they run on their toes."

Tell Me How You Use Your Trunk

Rhino, Rhino

Lucy's note: This is a song for Kdg - 2nd grade to introduce a discussion about the conservation efforts on behalf of rhinos by the San Diego Zoological Society. the San Diego Zoological Society has won international acclaim for their rhino conservation efforts. The Southern White Rhino is the logo for the Wild Animal Park. The Zoo and Wild Animal Park have had success breeding the Southern White Rhino and Great Indian Rhino, and they have launched a program for the captive breeding of the Northern White Rhino, the Black Rhino, and the Sumatran Rhino. All species are on exhibit at either the zoo or the park except the critically endangered Javan Rhino. (The last known captive specimen died in 1907 in Australia.)
How Did You Get Your Name?
Lucy's note: "Rhinoceros" is a combination of two Greek words, "rhino," meaning nose, and "ceros," meaning horn. The rhinoceros is the only animal with a horn, or horns, attached to the nose. (Other animals with horns have them attached to their heads.) Rhino horns are made of hard, solid keratin, the type of protein substance that fingernails are made of. If a rhino loses its horn, another will grow.