Coordinated Cows, Cats and Critters
(Coordinate Grid Activities)
Coordinate Cows, Cats and Critters is a full color reproducible teaching unit CD that focuses on reading, writing and interpreting coordinate grids. This thematic unit includes more than 75 pages of motivating activities and suggestions that can be used as a teacher directed, independent practice, literacy centers, and/or for instruction with the SMART Board®. Themes include bears, bees, birthdays, bugs, cats, Christmas, cows, fairy tales, farm animals, frogs, Halloween, monkeys, pandas, penguins, polar bears, rainy days, school days, seashore, snowmen, and zoo animals. Young children will enjoy the coordinate grids, jigsaw puzzles and riddles that support master of this important skill.
Proceeds from the sales of this CD are dedicated to maintaining a scholarship fund and to support the growth of literacy for children and teachers. International shipping costs will have to be calculated at the time of purchase.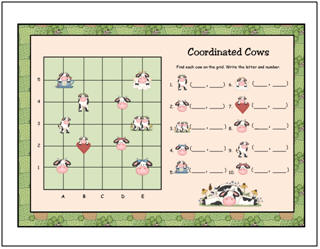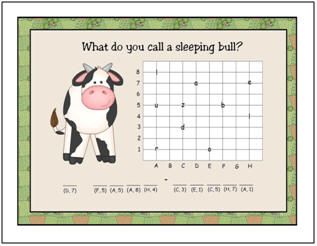 Available in website catalog at no cost